The health emergency arising from the COVID-19 pandemic, due to the spread of SARS-CoV-2, underscores the need to adapt public and private health facilities in order to avoid contagion and to ensure the protection of operators and patients.
Palladio Medical's innovative solution of mobile clinics for chronic, acute and inpatient dialysis arose from the experience gained by Palladio Consulting, as well as the expertise provided by nephrologists and experts in the field of medical devices.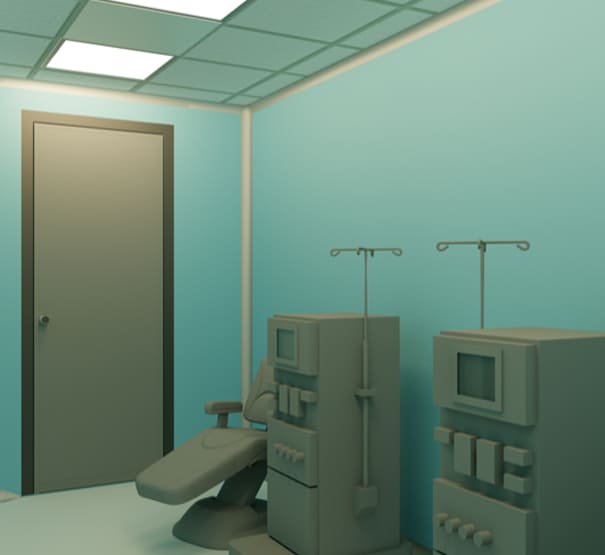 The configurable modules of Palladio Medical are built on the premises, in such a way as to have no staff on the worksite while they are being set-up, thus eliminating the risk of any possible infections.
This modular system allows a quick expansion, should this be needed, and can be "decommissioned" without any demolition and/or reconditioning, but can be reused in other areas if necessary.
The modules are built with perfectly washable materials, with flat surfaces and without edges, in compliance with ISO 14644 standards and are the result of Palladio Medical's experience in the pharmaceutical sector.
The cold plasma sanitization system installed on the Palladio Medical modules guarantees continuous air purification in a quick and safe manner. All system components are tested and certified by accredited laboratories in the European Union.
Each module can be converted from a patient's hospitalization room to an intensive care room with the appropriate equipment.
The "Stand Alone" conditioning system of each module guarantees the possibility, once the patient has left, to be decontaminated using a bypass system for module-by-module sanitization, through the use of nebulized hydrogen peroxide injection (VHP system).
When there is no longer the need for their use, the containers are constructed in such a way that they can be closed, once they have been sanitized, and then transported to other areas or reused for other purposes.
Fast and safe decommissioning, the procurement chain is shortened and times are optimized by being able to work on multiple dedicated warehouses for the installation of the containers.